Sunrise 6k 2020
29 April 2020
I have always delighted in hyper-local history and anything mysterious in the neighborhood. I've been doing more walking since the stay at home order began and started learning or discovering some interesting things in my Seattle neighborhood, Ballard. Then I saw the announcement of the
November Project
Sunrise 6k for April 29th and read scattered information in passing. An idea formed as I saw "best of," "top 10," and "story." Without actually understanding the intention of it all, I immediately wrote a list of 10 Ballard landmarks (supplemented by a Google search of course) and made a 6k route between them (I later found out that I misinterpreted the information I read about the Sunrise 6k event and realized there wasn't a top 10 element to the story all. In the end this didn't matter as I overslept the November Project Seattle Sunrise 6k start. Though I was, of course, undeterred by this).
Edith Macefield's House
Murals on Ballard Ave
Bell Tower
Bergen Place Park
Carnegie Library
Leif Erickson Hall
Castle in the Sky Robot
Street Markers
Stone Living Room
?????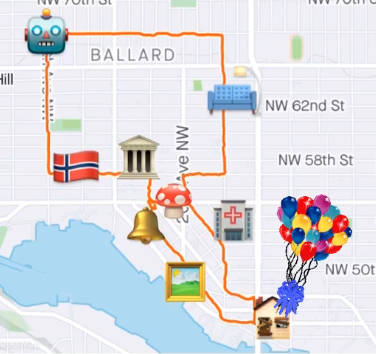 With the list and route in hand, I then decided to make a mini-project out of finding and synthesizing information about each landmark in a blog post as I think everyone should know at least some history about the places they live. This turned out to be quite a larger and more time consuming project than I intended, but I hope this is both entertaining and informative (probably mostly informative, sorry not sorry).
#1 Edith Macefield's House
Though I must have passed it 100 times in the last couple years, I had no idea that the "Up House", famous for it's previous owner
Edith Macefield
, was nestled into the Ballard Blocks or about the incredible stories about the house and it's owner. Edith
refused to give in to the developers of the Ballard Blocks who offered her $1 million for her home
, so they built around her. This all went down in 2006, but Edith, who
just wanted to be left alone
, died soon after in 2008 at the age of 86. She left everything to unlikely friend, Barry Martin, the Ballard Blocks project superintendent. Barry, who wrote a book about his friendship with Edith, was interviewed for this
history link essay
that covers almost all of the information I was able to find online about Edith and her home (i.e. if you want to read the full story, this is most worth your time).
Possibly more intriguing than her home is her
mysterious past
(this Seattle Times article is the second best one to read for more info). According to her stories, she went to England at the age of 14 and became a spy in Nazi Germany as a clarinet player at Hitler's parties. Later, she said she was accused of being a spy and was sent to Dachau, but later escaped, taking 13 Jewish children with her. The story further continues with her marrying three or four times. At least two of her husbands died (which seems suspicious to me) and another one was named Macefield, whose name she took. She also said she had a son with one of them who died of spinal meningitis at the age of 13 and she said she adopted and raised 27 children. Eventually she moved back to the U.S. to take care of her mother in Ballard (in The house, where they both died). The chornological order of these events and the facts differ in the accounts I have read. Reporters at the Seattle Times were able to find little to no evidence to support the stories of Edith's past. They could not confirm that Edith ever went to Europe and her marriage certificates seemed possibly fake. The only evidence of anything outlandish that did seem true was the autographs that Edith collected in a little green book. Two thirds of these autographs--of famous people whose names I couldn't hope to know other than Katharine Hepburn--were said to be true by an expert.
So I guess we will have to settle for not knowing how much is true or not. Her home is not looking so good now, just a boarded up empty shell, but while she was still alive and for few years after it was well kept. The "Up" story was was not inspired by Edith's but as the stories are similar balloons were tied to the top of the house in 2009 to promote the movie. Multiple local Seattle news sources and Wikipedia cite that Disney paid for the balloon display to promote the movie, but there is no firm source for this information. The last fun fact I will leave you with is that locals who admire Edith and her story got tattoos done which the blog site My Ballard calls,
Edith Macefield's army of tattoos
.
#2 Murals on Ballard Ave
As the shops on historic Ballard Ave boarded up for the pandemic, artists swooped in to paint the boards covering the shop windows. The result is really quite spectacular. I highly reccoomend a stroll down on Old Ballard Ave to see it for yourself. Even since I walked this way a few weeks ago, there is more art. All the art pieces are really wonderful so it's hard to pick a favorite but I love the poem, We'll Hold Each Other Soon.
#3 Bell Tower
The bell tower on the corner of 22nd and Ballard Ave houses the
1,000 pound bell that used to sit in Ballard's City Hall
when Ballard was it's own city. On May 30th, 1907, Ballard was annexed into Seattle and the bell was rung for the last time. The bell was restored to it's current position over 70 years later after the demolition of the old city hall. It now is most notable for marking the start and end of the farmer's market.
Far more interesting to me are the circumstances of Ballard's annexation. The annexation is the root of one of Seattle greatest urban legends: the dead horse myth. I found out about this from a friend on social media several weeks ago when I shared my findings about #8 on my Instagram story. I had written that Ballard became part of Seattle because their water supply could not support their rapidly growing population. The myth is that Seattle put a dead horse in the Ballard water supply that was the nail in the coffin that forced Ballard to become part of Seattle. The Shingletown Saloon website certainly
paints a very colorful version of this story
. However
KOUW checked old newspapers on both sides
, Ballard and Seattle, and found no report of a dead horse even though the Ballard news covered the water supply issue plenty in 1906.
#4 Bergen Place Park
Bergen Place Park
is named for Ballard's sister city of Bergen, Norway. Ballard is historically home to many Scandinavian immigrants and this heritage is still very much a part of the neighborhood and still celebrated, particularly at the 17th of May Parade. The mural aims to represent this connection and the history of Ballard with many symbols in the artwork (read the plaque picture). Though I have known about these historical connections, I was glad I finally took the time to read a bit more about them. However, one new piece of information stood out because it gives an explanation for the name of the neighborhood country bar, Shingletown. Ballard was known as "Shingletown, USA" in the early 1900s because more red cedar shingles were produced here than anywhere else in the 50 states.
#5 Carnegie Library
Currently home to the pub Kangaroo & Kiwi, this building has a
long history
. Like it's name suggests, most of the funds to build the library came from Andrew Carnegie, but the Women's Christian Temperance Union of Ballard is responsible for the efforts to form what was first a reading room and later became the library. However, the funds didn't cover books. The Ballard community came together to donate books to the library. This fact seems particularly striking because of the many Little Free Libraries that currently exist within a few square blocks of the current library. Clearly Ballard has a long tradition of community, particularly where books are concerned.
#6 Leif Erickson Hall
Leif Erickson Hall is home to the
Sons of Norway Leif Erickson Lodge 2-001
. The Sons of Norway are historically a fraternal benefit society (basically financial support organization for Norwegian immigrants), but today they are also dedicated to creating community around preserving Norwegian culture. On my 6k I took a picture with the bust of Leif that is in front of the hall on 57th street. There is a large fully body statue of Leif down at Shilshole that I will have to go see at some point.
#7 Castle In the Sky Robot
I found this guy on a walk around Ballard a few weeks ago and became obessed with finding out more about it and finding more Ballard oddities nearby. I found that the robot is called the Castle in the Sky Robot and that the owner of the house created him and they have a
Tumblr with more info and lots of pictures!
Want to find him? He's somewhere between 30th St and 20th (west to east) and 60th and 70th (south to north).
#8 Street Markers
A few weeks ago when I started going on quarantine walks, I finally bothered to find out about these street name mosaics on the sidewalk, which were clearly not the current names of the streets. I found out that they were changed when Ballard was annexed into Seattle.
The markers on 20th are said to be originials but the ones on 24th were installed in the late 1990s by local artist Benson Shaw who made replicas of the ones on 20th
. If you are curious about the old name of a street, check out this
table of the old names matched with their current one
.
#9 Stone Living Room
The stone living room is a fixture in the south end of Ballard Corners Park on 17th Ave NW between NW 62nd and 63rd streets. The couches are cleverly crafted because they look so real that you fully expect them to squish when touched but indeed they are stone. When I did the 6k route, there was unfortunately a man sitting on one of the stone couches reading and smoking. The stone living room is apparently a
tribute to the old corner store that used to be there
.
#10 ?????
What will I find next? What will you? I love hearing about neighborhood landmarks and local history. If you find anything, please share with me on social media, @kolovsam! Seriously, I want to know. Maybe I will even add it here.